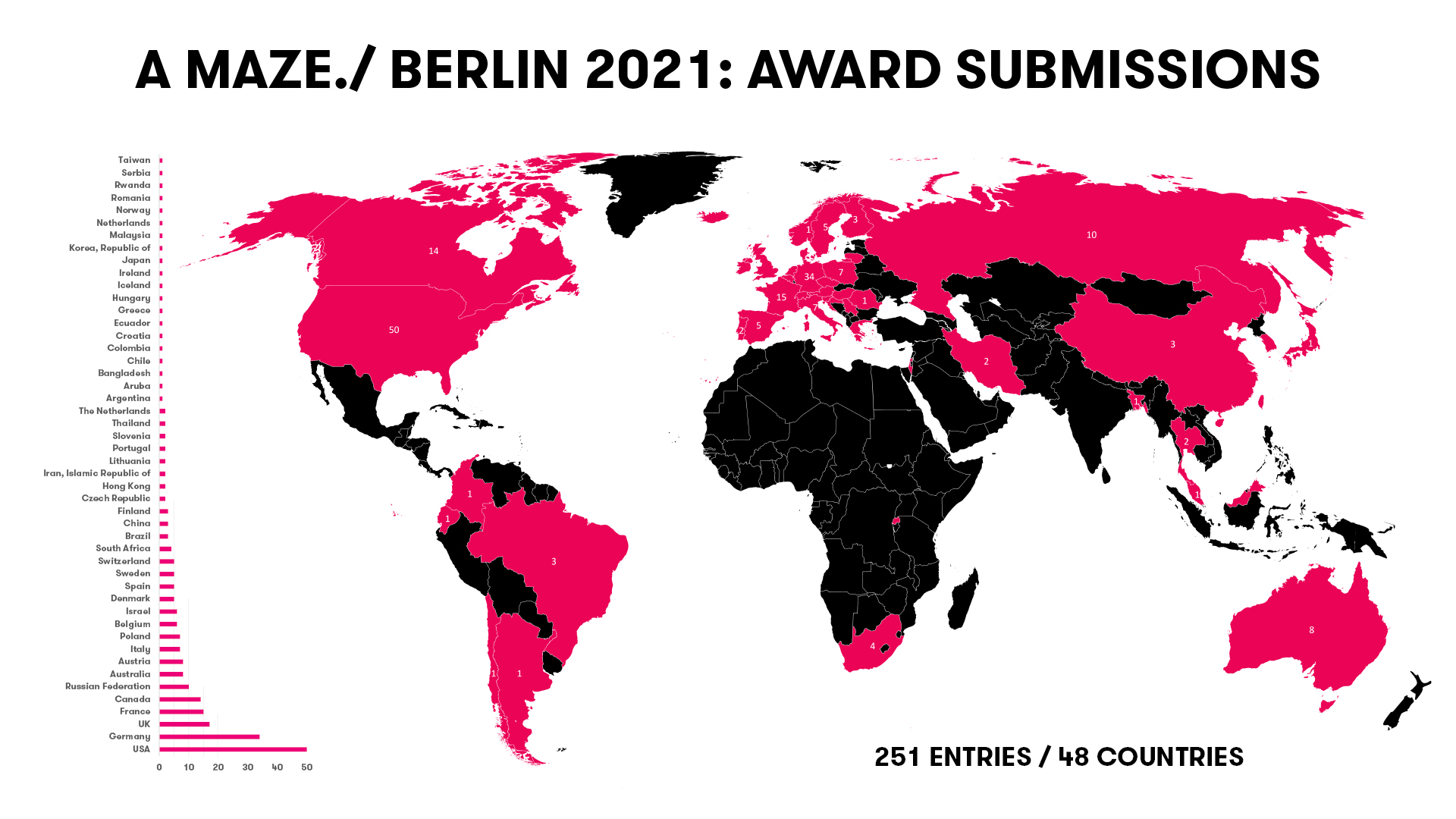 Since 2012 A MAZE. awards The Most Amazing Game. The winner is selected by an interdisciplinary, international and 100% independent jury. We extended and changed awards in the many years since, our categories are now: "Most Amazing Award", "Human Human Machine Award", "Long Feature Award", "Digital Moment Award", "Explorer Award" and "Audience Award".
The submissions are closed now -
Thank you for 251 entries from 48 countries around the world! Nominees will be announced on June 14th!
All Submissions
A MAZE./ is looking for works pushing the medium - fully finished works, demos, experiments or prototypes are welcomed! Each nominee will receive a spot in our in the
A MAZE. / SPACE
- our 3D Online Multiplayer Culture Experience.. No travel, no building up booths - We only need some visuals. Works should be presentable either as a publicly available demo or gameplay video.
Check the Conditions of Participation
. Submitters receive a 25% discount at the festival tickets.
Members of the Selection Committee
could register or reactivate a previously used account to test Submitted Works between March 19 and May 31, 2020.
How we review
The international Selection Committee reviews all entries and rates them based on innovation, potential, interdisciplinarity, social/cultural/political impact, aesthetics and overall awesomeness. They also leave comments and suggest a category. The A MAZE./ Berlin team builds upon that base and selects the nominees. After the nominee selection, a final jury of 5 experts, including the winner of the previous year, has the honor to select the winners.
TIMELINE
Mar 19: Start of Submissions and Jury-Registration
Apr 15: Judging starts
Apr 30: Submission Deadline (Still open until May 16)
May 31: Judging ends
Jun 14: Announcement Nominees
Jun 15: Final Judges starting reviews
Jul 21: A MAZE. / Berlin starts
Jul 23: Award ceremony
If you just want to exhibit - Please ask for available spaces in the
A MAZE. / SPACE
(our 3D Online Multiplayer Culture Experience) and their conditions or apply for the open screens around one month before the festival. Submissions and Honorable Mentions in the Award Contest will be notified and preferred.
Every exhibited work at the festival has also the chance to win the Audience Award (1000€).
Read the directors statement
|
More about the award categories
Have a look at last years edition:
If you have any questions, please contact us at
award_at_a-maze.net
.
More about A MAZE. / Berlin 2021
Get your Festival Ticket!
Organized by A MAZE.
Check out the
2015
,
2016
,
2017
,
2018
,
2019
and
2020
editions!